FARR understands the far-reaching implications of FASD and the impact on people and communities affected by it. We strive to have a long-term sustainable impact by:
Raising Social Awareness

Conducting world class Medical and Psychosocial Research related to FASD

Conducting Prevention and Intervention Programmes

Offering Training and Education Programmes

Offering Diagnostic and Support Services
FARR works in communities on invitation only.  Once invited, we follow an approach that conforms to international standards of research as shown in the diagram attached below: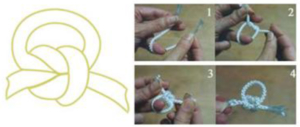 Internationally, FAS Day is commemorated on 9 September. FARR Head Office Staff members as well as Project Teams are actively involved around this day annually with various Awareness campaigns. The FAS-knot is the international symbol reminding us about the risk of prenatal alcohol exposure. We encourage everyone to wear a FASD-knot as a token of support to the prevention of FASD, especially on or around the 9th of September.
The FASD knot symbolizes many things:
The rope symbolizes the umbilical cord through which the unborn baby should receive nourishment (and not alcohol). It also represents the central nervous system (brain) and the frayed ends indicate the permanent damage done to the nerves of the unborn baby, due to the mother's alcohol use during pregnancy.
The circle symbolizes the uterus where the unborn baby should develop in a safe environment. If tension is applied to the ends of the rope, the Fisherman's knot will only tighten. This indicates how strong the support system of the pregnant women's family and friends should be to encourage her not to use alcohol during pregnancy.
For more information, or to place an order for FASD-knots, contact the Foundation for Alcohol Related Research/FARR at 021-6862646 or info@farrsa.org.za
Our Projects usually offer the following programmes: