FARR understands the far-reaching implications of FASD and the impact on people and communities affected by it. We strive to have a long-term sustainable impact by:
Raising Social Awareness

Conducting world class Medical and Psychosocial Research related to FASD

Conducting Prevention and Intervention Programmes

Offering Training and Education Programmes

Offering Diagnostic and Support Services
FARR works in communities on invitation only.  Once invited, we follow an approach that conforms to international standards of research as shown in the diagram attached below: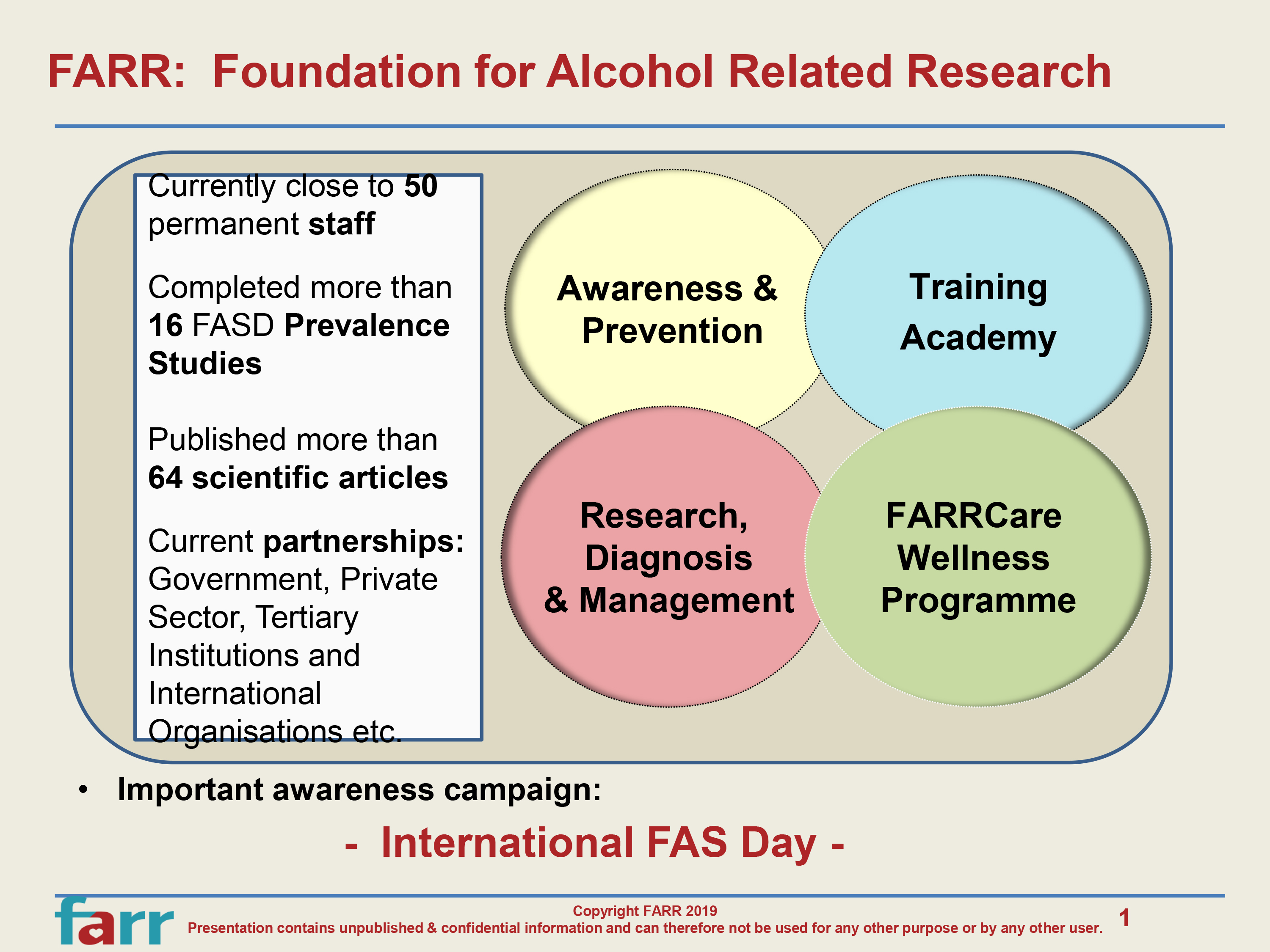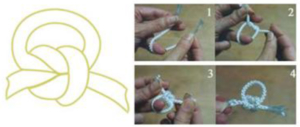 Internationally, FAS Day is commemorated on 9 September. FARR Head Office Staff members as well as Project Teams are actively involved around this day annually with various Awareness campaigns. The FAS-knot is the international symbol reminding us about the risk of prenatal alcohol exposure
The FASD knot symbolizes many things:
The rope symbolizes the umbilical cord through which the unborn baby should receive nourishment (and not alcohol). It also represents the central nervous system (brain) and the frayed ends indicate the permanent damage done to the nerves of the unborn baby, due to the mother's alcohol use during pregnancy.
The circle symbolizes the uterus where the unborn baby should develop in a safe environment. If tension is applied to the ends of the rope, the Fisherman's knot will only tighten. This indicates how strong the support system of the pregnant women's family and friends should be to encourage her not to use alcohol during pregnancy.
For more information contact the Foundation for Alcohol Related Research/FARR at 021-6862646 or info@farrsa.org.za
Our Projects usually offer the following programmes:
Social Awareness
FARR is committed to increasing awareness amongst all South Africans regarding the importance of not consuming any amount of alcohol during pregnancy to ensure FASD prevention in our country.
The cost of the management and treatment of any birth defect is more than the cost to prevent it, in other words: Prevention is more cost effective than management and treatment.  The usual prevalence rate of serious birth defects in a community is between 1-3%. This is defined as a defect, abnormality or disability that causes major hindrance to the full capacity development of a person. FASD is thought to affect at least 7 million South-Africans. Unfortunately, these statistics do not demonstrate the full effect of alcohol exposure during pregnancy as the broader effects of FASD such as Alcohol Related Neurodevelopmental Disorders (ARND's) and Alcohol Related Birth Defects (ARBD's), are generally difficult to diagnose.
It is estimated that FASD costs the USA more than $6 billion (approximately R42 billion) annually. In South Africa, the financial burden of FASD will fall on the Government and it's tax payers.  The cost of FASD in South Africa has not yet been fully assessed to date.  The full impact of FASD is in fact immeasurable until the full extent of the far reaching implications for the individual, the family and community can be measured.  The diagnostic costs and the management of the primary disabilities are immense. If undetected and untreated many individuals with FASD present with secondary disabilities such as mental- and other health problems, substance and other forms of abuse, consequences of risky behavior and conflict with the law.  In light of this, it is apparent that all efforts should be put in place to raise awareness about the harmful effects of alcohol exposure during pregnancy and the importance to prevent children from being born with FASD.
World class research
Research Unit
FARR is a research-based organisation and the research that FARR conducts is an integral part of FARR's work. 
We currently have two staff members: Mandi Broodryk (Research Coordinator) and Lebo Khusu (Data Clerk). 
Some of our key functions include: 
management of research ethical approval for all our research projects

coordination of FARR's research projects 

data management of all the data collected at each project site 

the facilitation of academic writing of papers to be published in peer-reviewed journals
Our current projects include the following: 
3 FASD Prevalence studies in Britstown (Northern Cape), Graaff-Reinet (Eastern Cape) and Kirkwood (Eastern Cape). 

9 Healthy Mother Healthy Baby© Programmes. These programmes are directed at all pregnant mothers, irrespective of alcohol use, at our project sites in order to promote healthy pregnancies. 

A study on the perceptions of community members towards women who use alcohol during pregnancy and other stigmatised behaviours. The study is also referred to as our Stigma study.

Jaco Louw (Project Coordinator in the West Coast) is also in the process of completing his PhD on a computer based cognitive training intervention on alcohol exposed and non-exposed children. 
For more information on our publications, please refer to our Publication list on this website. 
To date, FARR has completed or is involved in more than 24 projects across South Africa and has published more than 65 scientific articles in respected journals such as: Alcoholism Clinical and Experimental Research (ACER), the WHO bulletin, the American Journal of Public Health and the South African Medical Journal.
All of our publications are listed in the document linked below.

 FARR Journal Publications – April 2019


From Evidence to Awareness – Poster Presentation


 What Happened to Them – Poster Presentation


 Task Team Conference – Poster Training


FARR Publication List – April 2021
 PhD Dissertation, Dr L Olivier, CEO of FARR: Fetal Alcohol Spectrum Disorders in South Africa – A 20 year journey
Education and Training
A serious and growing need for community members, parents, caregivers and professionals (i.e. health care workers, social workers and educators) to be better informed about the risks of prenatal alcohol exposure and the prevention of Fetal Alcohol Spectrum Disorder (FASD), was the main driving force behind the establishment of a dedicated Training Academy at FARR in 2008.
The aim of the Training Academy is:
To coordinate and facilitate awareness programmes, workshops and courses towards educating, developing capacity and strengthening social cohesion, specifically related to the prevention and management of FASD.
The specific objectives of the Training Academy are:
To raise awareness on substance abuse and its effects;
To raise awareness about FASD;
To build capacity of health care providers, educators, social workers, undergraduate students and other relevant stakeholders, to identify women at risk and offer suitable interventions to prevent alcohol use during pregnancy, undertake appropriate referrals and assign appropriate support services.
To build capacity pertaining to prevention, early identification and comprehensive management of individuals affected by FASD.
Facilitators & Course Administration:
Currently the Training Academy has three full time staff members and two part-time facilitators who work across South Africa to present the different training initiatives. FARR is particularly fortunate to have qualified and experienced professionals e.g. nurses, social workers, psychometrists and psychologists who contribute to the inclusion of evidence-based course content and who are co-opted to facilitate profession-specific training interventions. All initiatives apply various techniques to enhance an interactive learning experience for participants. Course manuals and toolkits (where applicable) are provided and certificates are issued for attendees who meet the required criteria.
Education and Training Programmes offered for:
Community members, Blue collar workers, Farm and General workers:
FAStrap© Course
Best suited for those who have ± 5 years of schooling, but facilitation can be adjusted for persons who have more/less schooling.

This is a 4-day life skills course consisting of 10 modules, including topics such as:  self-image, planning for a child, responsible parenting, discipline, alcohol and substance abuse, etc.  Sessions presented are interactive and builds on attendees' previous experiences, while also using a variety of games, storytelling, roleplays and discussions to enhance the learning experience. Attendees are required to share the information received during the workshop with peers and family, and upon proof thereof (register with 20 names signed), are issued with a Certificate of Attendance.
LoveChild Industrial Theatre Show
The show and workshop are offered in co-operation with the TakeAway Theatre. Aimed at the general public.
This 60-minute performance and workshop, presented in Afrikaans, English and isiXhosa educates audiences about the dangers of alcohol consumption during pregnancy, safe sex, HIV/AIDS, etc. within the context of substance abuse.  No stage, sound or special lighting is needed. A small open space for the actors to perform in and place for the audience to sit, is all that is required. Actors make use of live music, unexpected humour and audience interaction to bring the message across. After the performance, a short workshop is facilitated to consolidate key concepts portrayed during the performance.
Please note:  The show is appropriate for adults and children from the age of 12 year. However, children under the age of 18 should not be grouped with persons 18 years and older.
Think Twice Workshops
Suitable for general public, company staff, peer educators
The workshop increases participants' understanding of the impact of alcohol (ab)use on the individual, the family and community in terms of the physical effects and the psycho-social impact.  It also provides a brief overview of FASD, with a specific focus on the important role of male partners in the prevention of FASD. Participants are equipped with the ability to recognize if there is a problem with alcohol and substance abuse, while some decision-making skills and resources for assistance of those affected, are also offered.
(The workshop can be customized according to need e.g. duration can be adapted between 2 – 4 hours).
Legacy Dad Course:
Course is presented in partnership with Bright Star Lifestyle and The World Needs A FATHER Aimed at fathers with pre-school children
The course, presented in three sessions over two days, guides fathers to build their legacy through the creation of awareness and enhancement of their skills. In the first session, fathers are guided on what it means to become more intentionally involved with their children. Then, it concentrates on Dad's relationship with his child and emphasizes two techniques to do this. Lastly, the course provides an enspiring perspective on how fathers can interact within the family and broader community.
Do you have 3 minutes© (DYH3M©) Programme
The DYH3M© Programme is an integral part of FARR's Fetal Alcohol Spectrum Disorder (FASD) awareness Programmes. The Programme is offered at most Project sites in the form of short (3 min) presentations to individuals and groups (e.g. at Health Care facilities), community members and related health and education professionals.  The need for such a condensed awareness intervention arose from….
Courses for Professionals (Educators, Social Workers, Therapists and Health Care Professionals):
Workshop for Early Childhood Development (ECD) Practitioners:
A 90-minute workshop provides basic information about FASD and its effects on early childhood development. Three common challenges experienced by those affected, and how it manifests in the ECD classroom, are highlighted. In relation to these challenges, basic techniques and tools are exchanged in view of enhancing the ECD practitioners' understanding and management of children. A basic toolkit is also provided to all participants.
One-day FASD Awareness Workshop:
Suitable for students, semi-professionals and professionals
The focus of this workshop is two-fold: Firstly, to provide an overview of alcohol (ab)use and secondly to give an outline of FASD and its effects. The first part educates regarding the physical and psycho-social effects of abuse (individual, community and workplace) and provides guidance on how to recognize a problem with abuse. It equips participants with decision-making skills and identifies strategies and resources for assistance. The second part focuses on FASD and covers aspects related to the epidemiology and the process involved in diagnosing FASD. It steers participants to develop insight into the life-long challenges faced by those who may be affected and guides regarding the pathway for referrals.
Professional Courses:
Includes: Educators, Social Workers, Therapists and Health Care Professionals:
Courses are presented over 2 days to various professionals in the health, welfare and educational sectors.  The first day contextualizes alcohol and substance (ab)use and its physical and psycho-social effects, it provides an overview of FASD, the epidemiology and how it is diagnosed, as well as develops insight into important human rights and ethical issues.  The second day is devoted to profession-related theory and role clarification while discussing the management of those affected at the hand of case studies and group work activities.
CPD Accreditation for professional persons is obtained (where possible) from the Health Professionals Council of South Africa (HPCSA) and the South African Council for Social Service Professions (SACSSP).
Do you require a Speaker?
The CEO of FARR, Dr Leana Olivier can be requested to do presentations on FARR's work as well as FASD information sessions (including information on Awareness, Prevention and Intervention studies and Programmes). Dr Olivier has extensive experience in presenting at conferences nationally and internationally, and has been in the front line of FASD prevalence, prevention and intervention studies. Please contact info@farrsa.org.za for more information.
Should you wish to participate in, or find out more about upcoming FARR Training-, Awareness-, Prevention- and Intervention programs, please contact us at info@farrsa.org.za or 021 686 2646
Diagnostics and Support
It is of utmost importance that the appropriate scientific diagnostic criteria are followed when diagnosing FASD. Most importantly to prevent the labelling and stigmatization of an individual and his or her family, but also to avoid misdiagnosis as a result of certain ethnic features which are common in a multi-cultural society such as South Africa.
The diagnosis of FASD can only be made by a multi-disciplinary team of trained specialists using the Institute of Medicines Model (IOM).  This would include:
A Clinical assessment

by a medical specialist, trained in the diagnosis of FASD, making use of scientific testing and assessment tools and methods.

A Neurodevelopmental assessment

by a trained psychometrist using a battery of measures to assess neuro-developmental functioning.

An extensive interview of the mother

to understand the type, time and amount of alcohol the mother consumed during the pregnancy.
Functions of our Neuro-Developmental Assessment (NDA) Unit:
The function of the Psychometrists in the NDA Unit is to perform neuro-developmental assessments on children or babies referred by our Medical Specialist, during FARR's prevalence studies and 9-Month Baby Clinics. Each assessment is followed by individual comprehensive reports and practical recommendations. The Psychometrists also form part of FARR's multi-disciplinary team of professionals, who collectively discuss each child/baby's NDA results and clinical presentation with regular case conferences. The results of the Neurodevelopmental assessments are taken into account when the multi-disciplinary team agrees on a diagnosis for each child/baby. Once a diagnosis is made, the Psychometrists, together with other professionals trained to provide counselling, give feedback to the parents/caregivers of these children/babies. During the feedback session results, practical recommendations and possible support are discussed.
The outcomes of the 3 assessments are compared by the FARR specialist team, and if all results are conclusive, a diagnosis of FASD can be made.
FARR Private Clinic:
As part of our diagnostic and support services, FARR is offering a FASD clinical diagnostic service with our Private Clinic (registered for Medical Insurance) at the FARR Head Office in Bellville. This service consists of a medical- and/or neurodevelopmental assessment by our diagnostic team, consisting of a Medical Specialist and Psychometrists. For further information about the Private Clinic, or to enquire about an appointment, please contact: info@farrsa.org.za or 021-6862646.
Support Groups:
Being a parent, caregiver or family member of someone who is affected by FASD, can be a very lonely road to travel. Through the provision of various support group services, FARR strives to provide a platform to inform, educate, share experiences and motivate those involved.  Support group gatherings are hosted at dedicated venues across the Cape Peninsula whilst information and support are provided via email, sms and slow-mail options.
Prevention
Healthy Mother Healthy Baby© (HMHB©) Programme
As a targeted FASD prevention and programme, the HMHB© Programme  aims to support pregnant women to have healthier pregnancies and thus healthier babies.  This Programme was developed by FARR in 2008. In collaboration with Health Care facilities in our Project areas, pregnant women below 20 weeks gestation are recruited to take part in the programme, thus adding to the existing antenatal-care programmes.  Our clients are offered a series of structured intervention sessions with our experienced Project staff throughout their pregnancy as well as after the birth of the baby.  These babies are then clinically examined at around 9 months old by our Medical Specialist, and where indicated a Neuro-developmental assessment is administered by one of our Psychometrists.
We would like to highlight some of the Projects we have implemented across South Africa, showcasing our Awareness, Prevention, Intervention and Training Programmes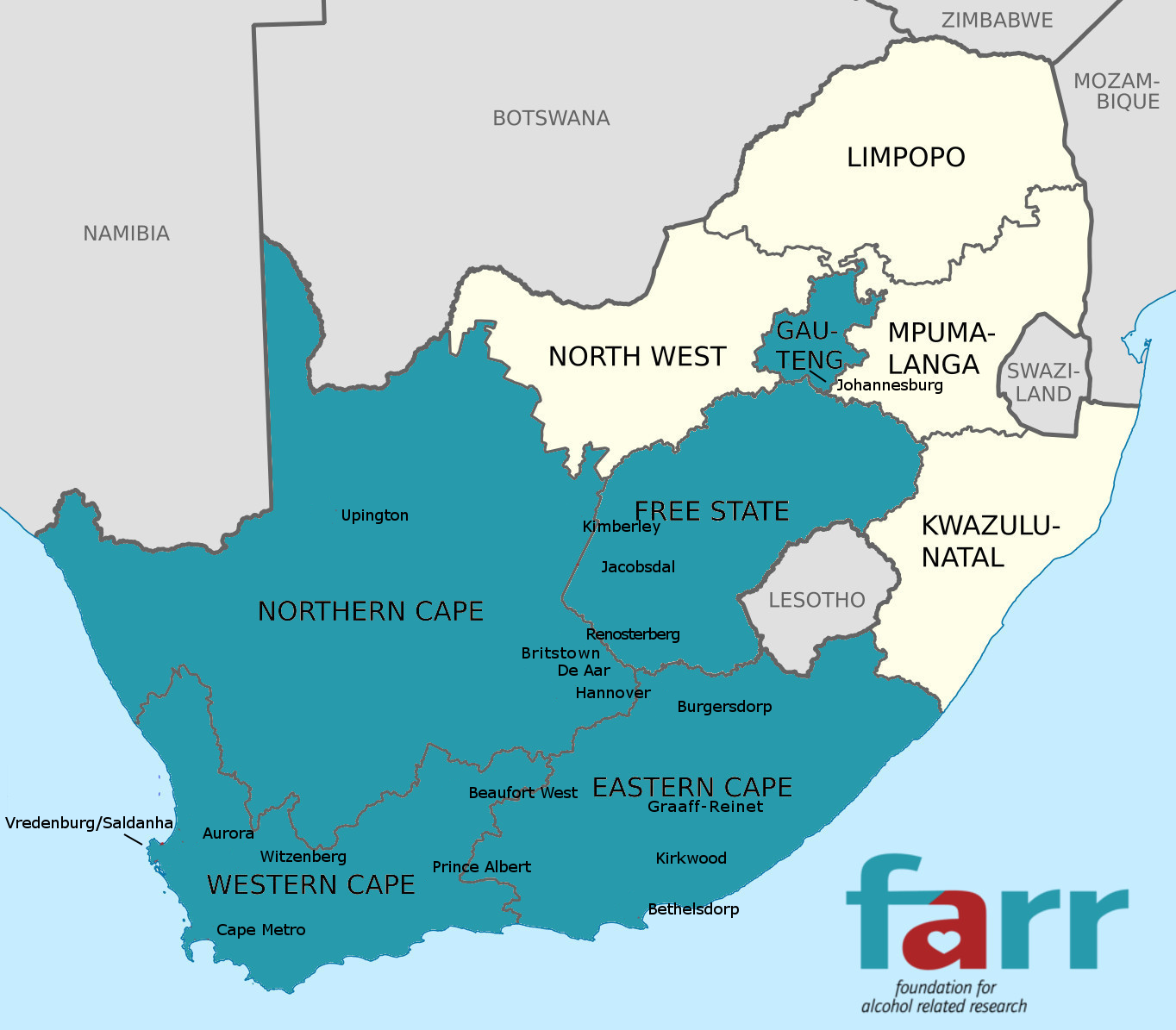 14
PO Box 4373
Tyger Valley, 7536
Unit 5, Amber Place
42 Bloemhof Street
Bellville, 7535
Cape Town, South Africa
Telephone: +27 21 686 2645/6/7
Fax: +27 (0)21 685 7034
Email: info@farrsa.org.za
Website: www.farrsa.org.za